Welcome to Bali for all of ADADA 2016 Committee members and participants. I hope there is no one missed this great event achieved by ADADA Committee 2016.
Our decision to choose Bali as the venue for the ADADA 2016 was a true and great decision, because by this decision, we have already extended our conference coverage, so that our conference would reach more participants.
Universitas Multimedia Nusantara (UMN) is honored to be the organizing partner or local arrangement partner of this event.
We hope that Bali culture as the conference environment will support at maximum to all of the ADADA participants by giving its unique culture and spiritual nuance, especially to the participants that are the first time visitors to Bali.
Bali is one of Province of Indonesia famous as tourism and convention destination. Bali has its unique culture among indonesia ethnic cultures, and considered as well maintained in its originality, while accepting new culture values from all over the world.
The Bali culture has its background from Hinduism. But of course this Hinduism is different from Hinduism of India. Hinduism of Bali is a result of merger of Hinduism in old era and old tradition of Balinese society.
That's why in this ADADA 2016 event, we arrange the conference agenda by combining the conference program, the banquette dinner and city tour program as one package, so that all the Committee members and participants could enjoy the culture and view of Bali.
We hope that there will be no Committee members and participants in hurry that will leave so soon after the conference program. We hope all of you could join the "Bali workshop" program as well, to celebrate our success in the conference, by enjoying the culture and view of Bali.
Finally we would like to thank to all of the Committee members and participants for their contributions so that the event of ADADA 2016 is successful and beneficial.
Thank you and see you in Bali.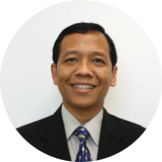 Dr. Ir. P.M. Winarno,M.Kom.
Honorary Chair ADADA 2016